"As iron sharpens iron, so one man sharpens another." Proverbs 27:17
We are connecting men to be C.O.R.E. with their passion, worship, and discipleship for the expanding of the Kingdom. We seek to Challenge our men to have Order in their home, work, and church; to have Resolve to be all they have been called to be in the Kingdom; and to Equip each man with the tools to succeed.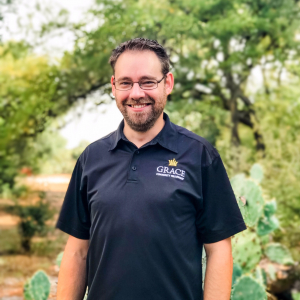 Nate
MEN'S LEADER
Nate came to Buda in 2012 after hearing God calling him to move to Texas.  He left a successful ministry in Salt Lake City, Utah where he was on the church leadership team and hosted a life group.  He has a passion for seeing God's people grow, find victory over struggles, and share Christ with others.

Nate has been blessed to be married to his amazing wife and best friend, Melissa, since 2007.  They have 3 children named Emma, Chloe, and Caleb.  They host a life group and love welcoming people into their home.  When Nate is not working as a steel detailer or spending time with his family he enjoys, hunting, smoking meat, making sausage, gardening, woodworking, baking bread, fixing things, home improvement projects, trying and failing at fishing, and winning board games.